Iggy Koopa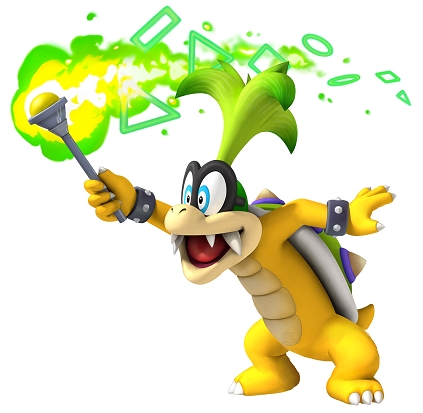 Fighter's Biostats

Full Name:

Prince Iggy 'Hop' Koopa

Age:

Early twenties

Race/Species:

Koopa

Home/Nation:

Bowser's Castle, Koopa Kingdom, Mushroom World

Friends/Allies:

The SPs, The Knights of Smashtopia, Kamek, Kammy, his father King Bowser and his siblings (Ludwig, Lemmy, Roy, Wendy, Morton, Larry & Bowser Jr)

Enemies:

The Forces of Powers including Tai, Rex, and Hyperion. Also, Mario.

Powers and Abilities:

Like all Koopas, he can retreat into his shell. He also has a powerful magic wand.

Quoted as Saying:

"Everything will be ok."
"It could be worse."
"At least we got outselves a match."
"WHY DID NOBODY VOTE FOR ME?!?!?!?!?!"
Game Highlights:

Super Mario Bros. 3

NES, 1990

Super Mario World

SNES, 1991

Yoshi's Safari

SNES, 1993

Mario & Luigi: Superstar Saga

GBA, 2003

New Super Mario Bros. Wii

Wii, 2009
First Heard of at the SSS:

Iggy first helped Lemmy commentate in Match #21.
Fighter Summary:

Prince Iggy Koopa is one of the crazier Koopa Kids. After having fought both Mario Brothers a few times, he decided to come to the Stadium with Lemmy for their own mischief. Ironically, many people remember Lemmy more than Iggy when it comes to the Stadium, but Iggy gets more chances to partner with his twin brother than another set of brothers. Iggy and his brother Lemmy have both left the stadium, for the time being. They will be remembered as two of the greatest commentators this place has ever had.
Iggy's Moves:
STANDARD SPECIAL Moves

Wand Shot

With a flick of his wand, Iggy sends a bubble or two hurling at his opponents! Of course, it goes at such slow speeds that it hardly seems worth the effort.

UP SPECIAL Moves

Thief Punch

Back to his old thieving ways, Iggy bounces himself up and snatches some cash out of his opponent's pockets, too!

SIDE SPECIAL Moves

Wand Toss

Iggy, having a magical wand, is able to throw it much like a boomerang, as it will always return to his hand.

DOWN SPECIAL Moves

Bomber

Iggy loves bombs. Simple as that. The essence of this move is that just like Link, he reaches into his shell and pulls out a big bomb to throw at his opponents.
Theme Song:

"They call us Hip & Hop!"--Lemmy & Iggy's Theme