Prince Lemmy Koopa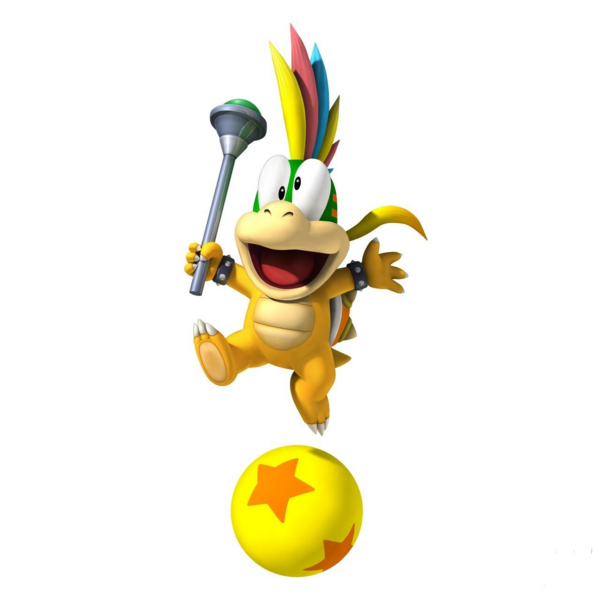 Fighter's Biostats

Full Name:

Prince Lemmy 'Hip' Koopa

Age:

Early twenties

Race/Species:

Koopa

Home/Nation:

Bowser's Castle, Koopa Kingdom, Mushroom World

Friends/Allies:

The SPs, The Knights of Smashtopia, Kamek, Kammy, his father King Bowser and his siblings (Ludwig, Roy, Iggy, Wendy, Morton, Larry & Bowser Jr)

Enemies:

The Forces of Powers including Tai, Rex, and Hyperion. Also, Mario.

Powers and Abilities:

Like all Koopas, he can retreat into his shell. He also has his bouncing circus ball and a magic wand.

Quoted as Saying:

"That would hurt if I was smart enough to realize it."
"We'll think about it!"
"I wanted Charmander..."
"Yeah, yeah, we're back… But just to save you guys' butts."
Game Highlights:

Super Mario Bros. 3

NES, 1990

Super Mario World

SNES, 1991

Yoshi's Safari

SNES, 1993

Mario & Luigi: Superstar Saga

GBA, 2003

New Super Mario Bros. Wii

Wii, 2009
First Heard of at the SSS:

He gave the first Color Commentary in Match #17, and we've used it ever since. =)
Fighter Summary:

Prince Lemmy Koopa (along with his brother Iggy) are considered "The Peoples' SPs" by a few fans. That is true on most parts; Lemmy & Iggy have done quite a bit of matches back in the day and always find time to joke around. Lemmy even brought SSS Color Commentary. They think of Stadium work as something fun to do while waiting for "King Dad" to bring them in another game (which oddly enough did happen, thanks to his baby brother Bowser Jr). Having to work with good people, Lemmy has learned to respect Mario & his buddies a little more. However, Lemmy's heart is a Koopa heart, and that will probably never change.
Lemmy's Moves:
STANDARD SPECIAL Moves

Ball Roll

This attack involves him bouncing a ball toward opponents. It's a good, quick attack to get off usually, and it works pretty similarly to Mario's Fireball technique in the way it bounces.

UP SPECIAL Moves

Magic Ball

How did Lemmy learn to use magic? He's a Koopa! However he learned it, this move works like PK Thunder and can save him in a pinch.

SIDE SPECIAL Moves

Ball Toss

This seems to defy gravity, flying straight ahead rather than bouncing. They've got a shorter range than the Ball Roll, but work just as well.

DOWN SPECIAL Moves

Mirror Shell

This koopaling's just showing off by reflecting moves, but who can blame him? It's a great defensive technique, and when his shell turns into a mirror, it releases a jolt of electricity to take out those in close quarters.
Theme Song:

"They call us Hip & Hop!"--Lemmy & Iggy's Theme