Mega Man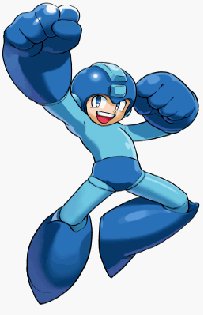 Fighter's Biostats

Full Name:

Rock (Model Number: DRN-001)

Age:

Robots don't age (though Mega Man does sound and act like a kid sometimes)

Race/Species:

Robot Master

Home/Nation:

Dr. Light's Lab, Monsteropolis (whether this is a fictional name for either NYC or Tokyo is still in the air)

Friends/Allies:

Dr. Light, Rush, Roll, Protoman/Blues, Tango, Beat, Auto, Eddie, Duo, Dr. Cossack, Kalinka

Enemies:

Dr. Wily, King, Bass, Treble, Evil Robot Masters, Quint, Enker, Ballade, Punk, Stardroids

Powers and Abilities:

Great endurance, can sustain self in various environments, can merge with Rush, can acquire enemy robots' abilities, chargeable plasma cannon, decent fighter/athlete

Quoted as Saying:

"Power Shot!"
"This is it, Wily!"
"Thanks, guys!"
"Rush! Super-adaptor, activate!"
Game Highlights:

Mega Man

NES, 1987

Mega Man 2

NES, 1988

Mega Man 3

NES, 1990

Mega Man 4

NES, 1991

Mega Man 7

SNES, 1995

Mega Man 8

Saturn, 1997

Mega Man & Bass

GBA, 2003

Mega Man Anniversary Collection

GCN, 2004

Mega Man 9

WiiWare, 2008

Mega Man 10

WiiWare, 2010
First Heard of at the SSS:

The Castle Raid, Match 28. He was ordered to guard Bowser's Castle for Mario and Daffy
Fighter Summary:

Mega Man is the ultimate fighting machine of his time, created by the brilliant Dr. Light to protect the world from the manic Dr. Wily. He's the Blue Bomber, the defender of peace and justice in a world wrought with chaos! But who exactly is he?
Mega Man began as the humble, household robot Rock, a member in Dr. Light's "family." Rock was still young, for a robot, when Dr. Light and his assistant Dr. Wily developed six industrial robots to better mankind: Cut Man, timber; Elec Man, power; Ice Man, arctic exploration; Fire Man, waste; Guts Man, mining; and Bomb Man, demolition. These six Robot Masters were the finest yet, but, being working robots, they were susceptible to reprogramming, and that is exactly what happened. With Light's back turned, Dr. Wily stole the Robot Masters and set out to rule the world! It was now up to Rock and Dr. Light's intelligence to create a new "master," one who could defeat Dr. Wily and his evil schemes: Mega Man!
Since being upgraded to a fighting model, fitted with a plasma cannon and the ability to mimic other robots' abilities, Mega Man has been an unstoppable force in thwarting Dr. Wily! He's trashed Gamma, Dark Man, Cossack, Mr. X, and every other obstacle that's gotten in his way, including 8 new Robot Masters each episode (from fan-favorite Pharoah Man to the forgotten Charge Man to the just plain stupid Clown Man to even Splash Woman). Along the way, Mega Man has even butt heads with his lone-wolf brother, Proto Man, the alien robot, Duo, and his eternal rival, Bass. He has certainly had his share of challenges!
With the help of his trusty dog, Rush, and all his weapon capabilities, Mega Man can take on every situation, and it's a surprise he hasn't wiped out Dr. Wily completely. But we here at the SSS support him regardless, and wish him good luck on his adventures both in his world, and ours; he's certainly got his hands full. But you know what? Even if he is overworked, the Blue Bomber still finds time to kick back and enjoy himself. And that totally Rock-s. (Flip Troopa )
Mega Man's Moves:
STANDARD SPECIAL Moves

Mega Buster

Mega Man can fire up to three shots from his plasma cannon, or charge them up as he moves for one large Power Shot. There's also a mid-shot, but it's only got increased width, not power.

Master Weapons

Mega Man can also opt to bring in one of the many many Master Weapons he's obtained over the years, ranging from the sleek Shadow Blade to the deadly Astro Crush. However, each weapon has its own method of usage and a limited supply; once it's gone, it's gone. These replace Mega Man's Mega Buster for the time that he has them selected; he can cycle through them by Taunting.

UP SPECIAL Moves

Dragon Punch

Mega Man knows who's got style, and this time the man is Ken Masters. Mega Man stands back, then unleashes a powerful energy uppercut as he launches himself into the air. This "drills" into his enemies as he leaps, though at the end, if they are hit, they are sent straight up in one, heavy hit.

SIDE SPECIAL Moves

Mega Ball

A blue and purple soccer ball appears in front of Mega Man, and he kicks it with a lot of force diagonally upwards. When it connects with a wall, the ball will bounce, and it can rebound all over the place, dealing damage to enemies as it passes through. However, at some point, it will inevitably stop moving and disappear or go off the edge of the screen.

DOWN SPECIAL Moves

Mega Slide

Mega Man does his famous sliding kick, tripping enemies and obstacles in his path. He can accidentally slide over the side, however, and can't use this attack while in the air. Though, it does allow him to get into some pretty tight spaces.

FINAL SMASH Moves

Super Adapter Mode

Mega Man summons his dog Rush into the arena, and they merge together to form Super Adapter Mega Man. This form gives Mega Man powerful booster rockets to enable flight, and a more powerful Mega Buster. It only lasts for a short time, and Rush leaves soon after.
Theme Song:

"The Blue Bomber Strikes Back!"--Megaman's Theme