Sonic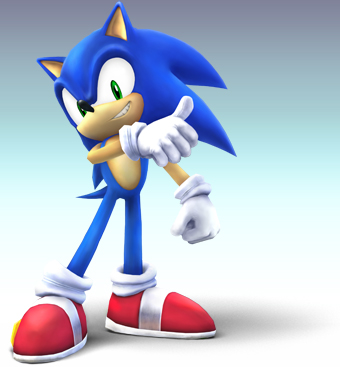 Fighter's Biostats

Full Name:

Sonic the Hedgehog

Age:

16/17, somewhere around there

Race/Species:

Hmm... I could venture a guess...

Home/Nation:

It depends. Most fans say he know resides in Knothole Village somewhere on Mobius, but if you go by the games, he's pretty much a wandering adventurer.

Friends/Allies:

Tails, Knuckles, Amy Rose, The Chaotix, Rouge, Cream, Big, Ray, Blaze, Emeryl, and a slew of others if you count the extended universe (Star Wars?!) Bleh... the EU gets bigger all the time. There's like a new character every game now...

Enemies:

Dr. Robotnik/Eggman, Shadow, Machines, Chaos, Omochao

Powers and Abilities:

He's the fastest thing alive! (Welll.. except for The Flash, Impulse, Superman, Ninjask, The Bullet, Lightning Lynx....)

Quoted as Saying:

"Up, over, and gone!"
"What you see is what you get. Just a hedgehog that loves adventure. I'm Sonic the Hedgehog."
"Way past cool!"
"Time to say good-bye, Robuttnick!"
Game Highlights:

Sonic the Hedgehog

Genesis, 1991

Sonic the Hedgehog 2

Genesis, 1992

Sonic the Hedgehog 3

Genesis, 1994

Sonic Adventure

Dreamcast, 1999

Sonic Adventure 2: Battle

GCN, 2001

Sonic Mega Collection

GCN, 2002

Sonic Heroes

GCN, 2004

Sonic Gems Collection

GCN, 2005

Sonic Unleashed

Wii, 2008

Sonic the Hedgehog 4

WiiWare, 2010
First Heard of at the SSS:

Match number forty was his first fight, against Geno, but he was mentioned time and time again beforehand.
Fighter Summary:

This is the famous hedgehog hero of Sega, but the story of Sonic the Hedgehog is truely confusing, so let's start from the beginning. Sonic the Hedgehog was born on Christmas Island on an extremely Earth-like planet that we've dubbed "Mobius." A speedy, adventurous hedgehog, he was soon on South Island and had his first meeting with Dr. Ivo Robotnik, who Sonic instantly dubbed "Dr. Eggman" due to him looking like a rotten egg. Either way, Eggman was using this invention called a Roboticizer to turn the anthropomorphic populous into his robotic slaves so they can search for the seven Chaos Emeralds. Sonic helped to save this island from Dr. Eggman, but he only recovered six of the seven Emeralds. Sonic still visits South Island even to this day. After a second battle with Sonic on Little Planet, Eggman went to Westside Island to resume his quest for the Chaos Emeralds, and Sonic met Miles Prower, who he instantly nicknamed "Tails" because of his unique mutation of having two tails. It was here that he aquired all seven and learned exactly WHY Dr. Eggman wanted them... for this was when Sonic first transformed into Super Sonic! Sonic had many adventures since then on the legendary Angel Island, in Station Square, on the mighty space colony Ark, and even in the books of Arabian Nights and King Arthur! Sonic is a true blue hero, through and through.

Sonic's Moves:
STANDARD SPECIAL Moves

Homing Attack

Sonic's coolest move from Sonic Adventure; Sonic dashes at the speed of light to obliterate enemies! Even though it requires a line of rings to execute in the games, Sonic can pull this move out whenever he feels at the Stadium.

UP SPECIAL Moves

Spring Jump

Sonic uses a famed Spring from the Casino Night Zone to launch himself high into the air. If used on the ground, it stays there for an opponent to use until Sonic lands.

SIDE SPECIAL Moves

Spin Dash

An oldie but goodie. Sonic spins his body at a vicious speed, tearing it up with his spines out in full force. This works similar to Rollout, except Sonic can jump after hitting his opponent, paving the way for more aerial combos. This old school attack is simply too cool for you.

DOWN SPECIAL Moves

Spin Charge

As in the Genesis games, Sonic can also charge up his Spin Dash. This makes it more powerful, but he cannot jump after the attack. In the air, he instead does a Rolling Kick.

FINAL SMASH Moves

Super Sonic

The Seven Chaos Emeralds surround Sonic and transforms him into Super Sonic. Super Sonic flies around the arena invincible to attack, and can hit the opponents for good damage and knockback. In lieu of Rings, Sonic powers down and the Chaos Emeralds fly off after 15 seconds.
Theme Song:

"Green Hill, Blue 'Hog"--Sonic's Theme