Kirbetty(R.I.P.)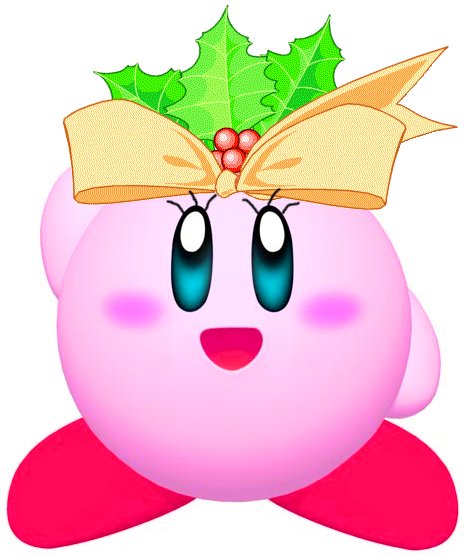 Games she has been in (offically): None
Games she has been in (unofficially): Super Smash Brothers (N64)
Games she could be in: Any Kirby game (help with Kirby's game list, please?)
First heard of in (site-wise): Match 18 (Kirby brought her to Powers)
Summary: I might not know Kirby's, but it's a different story for his wife. Yes, his wife. Both Dream Landers recently got married after Kirbetty completed Kirby's training. Before the training began, Kirbetty always wanted to go out with her current husband. However, when King Dedede was around, guess who had to save everyone. Yes, it was Kirby. Before the actual Stadium opened, Jigglypuff befriended Kirby first, but that quickly changed after Match 11, when both Jigglypuff & Kirby had to face the "Fearsome Four" (Mew, Mewtwo, Boshi, and Meta Knight). And now, we are at the present. I wish Kirbetty the best of luck in surviving in the Super Smash Stadium, because it can--and will--get rough.
Kirbetty's body was found after the apocalypse. Sadly, even after the Pick-Me-Ups,and Phoenix Downs, she wasn't moving. She will be sorely missed as one of the few femme fatales of the SSS.
Matches:
Kirbetty's Matches
Match #
Fighters
Summary
Match 19
Kirbetty vs. Jigglypuff
    Kirbetty had a very harsh stipulation in her debut fight; whoever lost couldn't appear in the Super Smash Stadium until Valentine's Day. After being trained by husband

Kirby

, Kirbetty used wise tactics to defeat Jigglypuff.
Match 20
Red Yoshi vs. Kirbetty vs. Link
    This fight was for the title of Super Smasher, and everyone gave it their all. After Kirbetty took away Red Yoshi's second life, the final part of match 4 was alive again. While they were different fighters, the same ending happened; the dino won.
Match 23
Ash & Pikachu vs.

Kirby

& Kirbetty
    This tag-team match might have had more action on the commentating stands with Lemmy and Roy (& a quick cameo by your truly). The match was back and forth, but both

Kirby

& Kirbetty lost to Ash's Charizard.
Match 24
Yoshelly & Red Yoshi vs. Kirbetty &

Kirby

    This was dejŠ vu country all over again. After a quick roller coaster-type match, Kirbetty knocked both Yoshis out...or so she thought. After taunting, Yoshelly used a hip drop to stop

Kirby's

wife.
Match 32
Yoshelly vs. Kirbetty vs. Samus vs. Jigglypuff
   

Kirby's

wife did worse than her other fighters in the cat fight at Congo Jungle. After almost being threatened by Megaman about phrase-stealing, she lost focus; she could only get one KO before losing to Jigglypuff.
Match 59
All the SSS Couples
    Who'd have though Kirbetty had it in her? Surprisingly, the most underrated couple at SSS, the Dream Landers, got the victory thanks to Kirbetty's outstanding performance in her second (and last) victory.